Email preheaders are used by many businesses to add information to their marketing emails. It displays next to or below the subject line, so recipients know more about the email content even before they open the message. Unfortunately, email preheaders are mostly overlooked by marketers in the wine industry. How can you use email preheaders effectively, especially when recovering abandoned carts and wine club signups?
What Are Email Preheaders?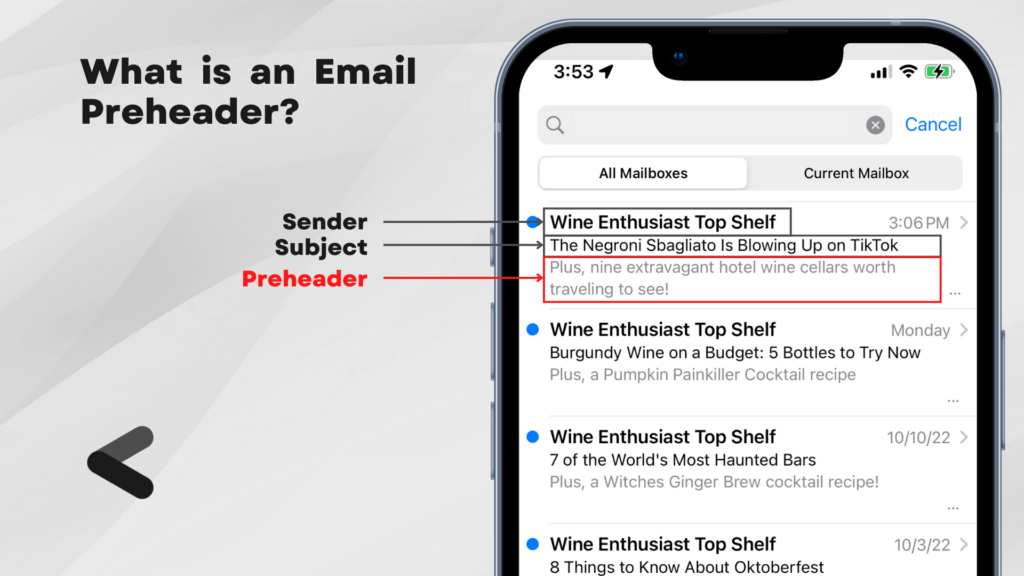 A preheader is an introductory paragraph at the top of an email. It's usually used to introduce the subject matter of the email, give some context, or provide additional information. It is sometimes referred to as the email preview text.
Some email marketing platforms allow you to specify the text you want to be displayed as the email preheaders. Other platforms will make an attempt at automatically capturing the first few sentences of your email body to use them as the preheader.
Why Should I Use Email Preheaders for abandoned cart recovery?
There are several reasons why you might use email preheaders. One reason is to provide readers additional reasons to open your email message. According to email receiving statistics, the average person receives over 100 emails per day. That means you have a 1% chance of getting your abandoned cart noticed. Preheaders can serve as an extension to your subject line or as a sneak peek to the content of the email.
Another reason is that failing to take control of email preheaders leaves you vulnerable to whatever is chosen by the email marketing platform or email client your reader is using.
Here are a few types of how email preheaders and how you can use each.
The Different Types Of Email Preheaders
If you want to recover and abandoned cart, the first thing you want consumers to do is open the email. No-brainer. Now, there are a few types of preheader content you can use to increase open rates. Each one will be effective depending of the type of recovery email you are trying to send.
You can use an existing customer's feedback and include it in the preheader to add more social proof to your product or wine club. Also put to use any positive review from a wine critic or publication.
"I fell in love with this wine immediately" – Jane Doe

"Inspiring, majestic Pinot from the Willamette Valley" – John Doe
For abandoned wine club signups:
"The events this wine club puts together for their members are like no other" – Club Member
Ever thought of including the promo code or creating a sense of urgency in the subject line copy? Adding those elements to the preheader might deliver great results if used wisely.
Under $30 (50% OFF) Retail Price. ONLY AVAILABLE HERE FOR DELIVERY!

Only a few bottles left!
For abandoned wine club signups:
Our wine club membership list for the month is closing fast! Act now to get your first discounted shipment.

Your access to member-only, award winning wines is here.
Wine descriptor preheaders
Preheaders make a great location to include a 1 or 2 liner descriptor that will rengage customers who abandoned their carts.
"A big red that is very easy to drink" – Experts
"Reveals thrilling levels of opulence, richness and aromatic pleasures" – Winemaker
The 2021 vintage was meticulously made from estate-grown grapes.
How To Create An Effective Email Preheader
Email preheaders can make or break your cart and club signup recovery efforts.
Follow these best practices to ensure you increase your chances of getting a return on your investment.
As with subject lines for abandoned carts, there is not a one-size-fits-all length for email preview text.
Email preheaders are typically between 85 and 100 characters long. The issue is that for mobile devices the number is typically less and how much is displayed depends on the actual device and the email software readers use. If you want to ensure that your email headers are adapted to fit a variety of devices, keep your email preheader between 30 and 80 characters. There's nothing wrong with a brief preheader as long as it expresses your message clearly.
But, since email clients make updates pretty often that can break your emails, it's important to make sure you always test your preview text (and the rest of your emails)!
Also, this hack enables you to write short email preheaders so that email clients don't pull other distracting text or characters into the preview text.
You may believe that calls to action are only useful at the conclusion of emails, but they can also be quite powerful in preheader material. You can use your preheader to explain why you're sending them an email and what they should do after reading it. This is a critical initial step since it provides people with a reason to continue reading.
In terms of your call to action, it might be anything. You could encourage consumers to take advantage of a discount on their abandoned cart or cross-promote your new releases. You're doing it well if you can capture the interest of folks reading your email preheaders and persuade them to open your emails.
Personalizing 
your 
email 
preview text
is 
a 
smart 
technique 
to 
encourage 
more 
buyers
to 
open
your 
emails
. 
Think of including the name of the product they left on the cart, the buyer's name or even throw in a few descriptors or reviews.
Personalization also may include "humanization". While abandoned cart and club signup emails are automated, give them a human touch so it stands out in the inbox.
Make your reader chuckle and pause for a moment because they read something clever and unexpected.
Spot what these email preheaders could have done better:
This one from the Texas Food & Wine Alliance looks like it's pulling straight from the email footer. This usually happens when the email content is mostly an image. While that's not bad in itself, the real estate of the preview text was not used.
The Wine Industry Expo had the right idea when they typed in their initial text in their email, but it's so short that the rest of the text spills over with not much context. Something better would have been to add intentful preheader text, like this: "Get your tickets now for Dec.1 2022 at Sonoma County Fairgrounds!"
The infamous View in your browser. Even giants like Wine-searcher sin on this one.
Another example of "View this email in your browser".
Recover more carts and club signups with the preview text
In summary, preview or preheader texts are very underutilized in the wine industry. The potential to get more emails opened and acted upon is enormous!
Sometimes all it takes is a few minutes and a bit of creativity to have a great impact in your email marketing execution.
Test the different types of email preheaders. Use an adequate length and include a CTA and personalization whenever possible. Most importantly, take ownership of your email preview text. If you don't the robots will do a poor job at it. 🙂
If your wine brand needs help with its email marketing, schedule a call with us!